"An aesthetic space conveys respect"
Auteur

Jenny Keller

Publié le

oct. 22, 2012
---
Hanns-Peter Cohn, CEO of Vitra, in an interview with
Jenny Keller
. Mr. Cohn answers questions about the office and today's working environment, presents the "Citizen Office" project – the office premises of the Vitra headquarters in Weil am Rhein, Germany – and talks about the innovations to be expected at Orgatec (Oct 23-27 in Cologne).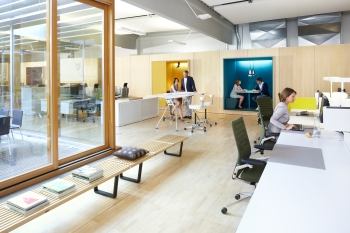 What can you see when sitting at the desk in your office?

Generally only the computer that is in front of me. However, my role involves numerous conversations; therefore my office is arranged like a meeting room.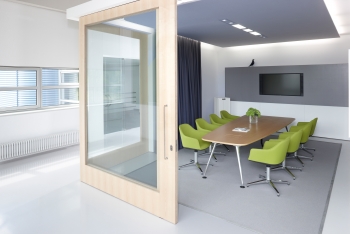 As soon as the word "ergonomic" appears, I, as an architect, immediately associate this with "ugliness". Of course, Vitra is working together with important designers in order to ensure good optics even for comfortable office chairs. Nevertheless, why is this connection so often made?
I believe you just hit the cornerstone of Vitra. The general direction of our designs is dominated by the contemporary modern style, which is why architects are able to like us. The modern style has always tried to manufacture products with a minimum amount of materials. Then additionally, with the example of the office chair, requirements for a comfortable sitting position are involved.
The
Institute for Biomechanics at ETH
(IfB) has a good understanding of this issue, which is why we are cooperating with them. The new office chair series "
ID Chair
" has been designed together with the institute and
Antonio Citterio
. Citterio is known for elegance and minimal use of materials, and the IfB is known to comply with the ergonomic requirements. The design of the "ID Chair" is based on the sitting position on a ball: when sitting on an exercise ball, your sitting position is correct, as your weight is distributed perfectly and because you must keep your balance. The significant factor is that you have to move yourself along with the ball and this is highly important for all body functions. The whole human body is oriented towards dynamics. Therefore, the ball function had to be integrated into the chair. With the ID Chair we succeeded in developing an ergonomically ideal and aesthetically pleasing chair.
However, individuality must be considered as well. In the case of the "ID Chair" you can choose between 8000 options, and even that is not enough. This is not about limiting complexity, but about managing it.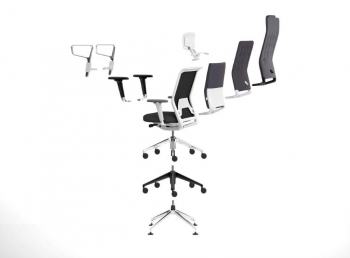 Efficiency is a key word in the working environment. The individual's creative freedom often gets the short end of the stick. What do you suggest to your customers who order office furniture from your company?

You are referring to the issue of budget awareness: budget awareness vs. aesthetics. Often offices are "decorated" by technocrats that totally miss the mark. This is due to a simple check-list type of thinking: each item is ticked off from the list, but the final result is wrong because aesthetic mistakes were made along the way. But the number of us that benefit from a well-decorated room is often underestimated – we feel more comfortable and hence are more motivated and inspired. An aesthetically decorated room shows respect for employees.

I go so far as to claim that we all try to live in an aesthetic environment. This can be achieved through clothing, cars and our private apartment. The design of an open-plan office is a job for experts that create a synthesis between the space, technology and interior architecture.

It generally depends highly on the flexibility of the rooms; from the perspectives of the project developer, the landlord and the tenant. Even for the architects this involves a rethinking, since planning according to run-of-the-mill schemes is no longer appropriate.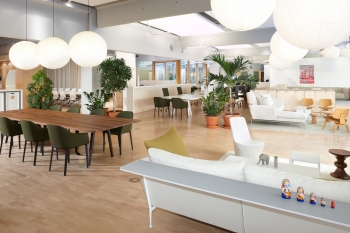 Who is the "Office Citizen" that Vitra coined (see column on the right), and what are his or her characteristics?

In principle, the office work environment is changing from administration and moving toward creative knowledge tasks. These changes occur in all sorts of places. The modern individual with knowledge tasks has different requirements than the administrator who is effectively executing processes. This administration is being taken over more and more by IT processes and only a few interfaces still require human interaction. Thanks to modern devices, work is being carried out from any location. Just assume that companies decide their employees will be working from home one day a week; this would relieve infrastructure by 20 percent. There would be less traffic and childcare could be arranged more easily. People would not be working based on the number of hours but according to the workload. And if you are passionate about your work, you will want to complete your workload and enjoy the result.

As we are operating on an international scale we are able to draw comparisons with Asia, America and the rest of Europe. The signs tell us that we are heading toward a large-scale outsourcing movement in the office environment – something that has already occurred in production. We will have to wonder: do we still need offices at all? These offices will turn more and more into centers for communication. They will be used for meetings and for information exchange, as the actual work can be executed anywhere in the world these days, due to the mobile devices we all carry around with us.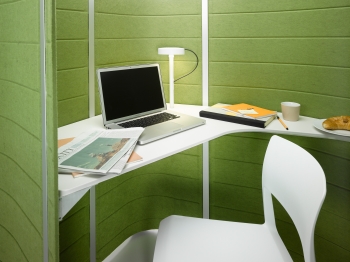 Could a furniture manufacturer like Vitra change society?

The answer is plainly, "NO, we can't." Steve Jobs and his team have changed the world through the invention of such mobile devices, and Bill Gates predicted at the beginning of the 1990s that in the new millennium communication will dominate the IT business. And this is exactly what happened. The world is changing due to this. [He points to my iPad that is recording our conversation – and that I will use to continue working on the train.]

As the boss of my company I no longer need to intimidate my employees with the furnishings in my office. All this is no longer necessary. Everybody is so well-trained and social advancement is no longer a reason to show off, as nobody is interested in this anymore. These are social changes that we have noticed and that we have to pay special attention to. Hierarchies will die out as such free spirits can no longer be domesticated.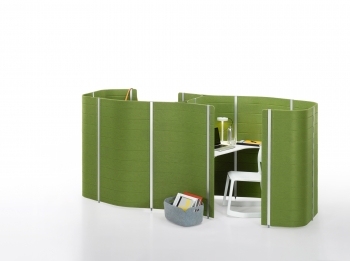 Boundaries between work and life are disappearing: Emails can be checked during Sunday breakfast in bed or at your daughter's birthday party. Should we not try to reintroduce these boundaries in order to live – and work – more consciously?
We at Vitra don't have any boundaries. But I won't say that it will stay this way forever. Volkswagen, for example, has limited the internal email traffic, and I don't think this is a bad idea at all. I generally believe that the flood of emails – 70 percent of which is advertising and spam – will no longer continue in this way.
Which innovations will Vitra present at the Orgatec 2012?
Our entire presentation at the Orgatec will be new: We no longer have a café with tables but we will sit down on round cushions by
Verner Panton
that can be placed individually. We will introduce the room-in-room concept "Workbay" that we developed together with
Ronan and Erwan Bouroullec
. This comprises mobile walls that can be rearranged within minutes. The material of these partitioning walls is polyester that is normally used in car boots and that has excellent acoustic properties. The polyester replaces the felt, which is far too expensive.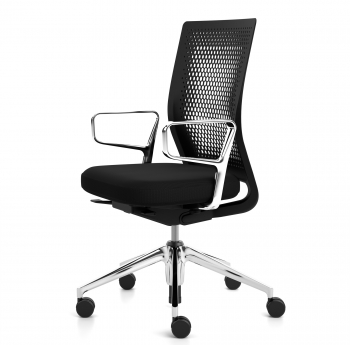 In addition, the "ID Chair" has been supplemented by one more element: If we assume a non-territorial use of an office – e.g., over the day three different people will be sitting at the same table – the employees no longer deal with the individual settings of their chairs, as they are no longer their own chairs. The "ID Chair" now recognises people based on their weight and adjusts to them. Besides the new designs "ID Air" and "ID Trim Cap", this is one of the innovations that we will introduce at the Orgatec and that goes along with the development of offices and society in general.
jk
Interivew originally appeared in German in the Swiss-Architects.com eMagazin.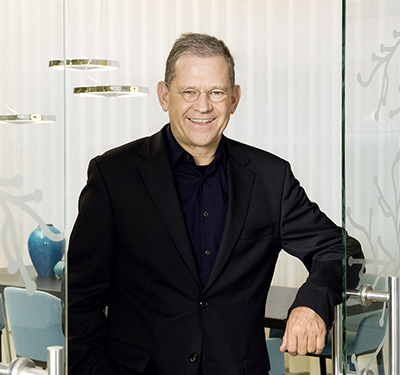 Hanns-Peter Cohn is the Chief Executive Officer (CEO) of Vitra, the family-owned company founded in 1950.

The project "
Citizen Office
" started in 1991: based on the suggestion from Vitra, Andrea Branzi, Michele de Lucchi and Ettore Sottsass started working on the office as such, in order to develop strategies of change to tear down the boundaries of the one-dimensional office environment. Their alternative draft resulted in an exhibition at the Vitra Design Museum and in a publication. The draft described the office from the perspective of its user who is organized in a network and supported by new communication technologies, and who moves autonomously in a variety of spatial, temporal and typological office scenarios. The office was to become a living meeting place that leaves behind the division between life and work. This new work environment strengthens not only the role of the employees as individual and confident team players – Vitra refers to them as "Office Citizens" – but also slowly disappearing hierarchies, new technical possibilities and the central role of communication.
pd